Sound on? Long time to load/interesting!
GMC
MOTORHOME PHOTOS
this webpage is being brought to you by fellow GMC owner Scott Nehoda Adohen@aol.com
My wish is that it is informative and somewhat enjoyable to you

Putt-Putt---Boom!
1975 Palm Beach - side wet bath
Anything used is at your own risk!
ENGINE COMPARTMENT MINUS ENGINE
Palm Beach colors Yuk!
ONAN 6KW GENERATOR
stupid old valve

Two Gate Valves and 1/2 inch tee discharge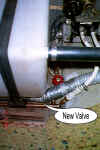 REAR driver (HEAT)

WATER HEATER

mouse hole?
KITCHEN SINK AREA
DRIVER CLOSET AREA
YOUR MESS TOO?
TOWARD BACK TOWARD FRONT

MISLABELED(my shower drain only not original)
Adohen Supply Co. Fantastic Vents, 317/315 Thomas Compressors, KYB Shocks and Emergency Brake Pulleys.
Updated April 10, 2001
There have been
official visits to this website since February 4,1999
my 2cnts
© 1999 Scott Nehoda All rights reserved
Created by Freddys Web Designs