---
SOME GMC motorhome owners are using this pulley to replace the metal rods used on the emergency brake system. Go to: BRAKES if you would like to see what a GMCer did! These pulleys are nicely galvanized and have a bronze bushing in the sheeve. They are used mainly in the logging industry and have found a home also on many GMC's!! You will find there will be less fraying of the cables and a little less effort pulling the emergency brake handle!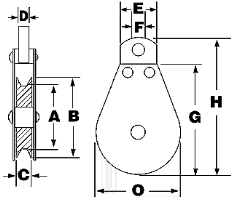 Some people might like to install 3 of these, one on each side, and fastening one on the passenger side above the muffler.
$21.00 for 3
Want to order? Please fill out Order form or use Paypal button above.

or call 1-440-937-5694
Total price for 3 with shipping/confirmation/Priority Mail in the US is $25.35

I accept payments from anyone with a credit card at PayPal - always FREE! This service is used on Ebay.com a lot!! Why give your credit card number to every Tom, Dick and Harry for internet purchases when you can give it once at Paypal? Insist your internet merchants use Paypal! I also accept payments with checks.

Created by Freddys Web Designs
03/29/01